BACKBEAT
RHYTHM & ROOTS
by CHRIS BOURKE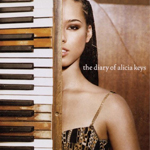 <![if !supportEmptyParas]> <![endif]>
With her supremely self-confident debut Songs in A Minor Alicia Keys declared she was a major player. Soul was back, and so were songs – and she was doing it her way. The in-yer-face braggadocio of hip-hop had left the soulsters looking impotent, with little to say. They were reduced to smooth, syrupy and shapeless albums that had a pleasant sheen but no memorable songs; after three decades as the voice of a people, the genre was now just aural wallpaper. So many albums, so much hype, now so much landfill. Occasionally one came along that deserved a longer lifespan, such as Lauryn Hill's Miseducation or Angie Stone's Black Diamond. Their peers' albums were like cut flowers: instant gratification before rapid decay. Few planted anything worth watering; there would never be any extra growth.
The Songs in A Minor made you want to sing – 'Fallin', 'A Woman's Worth' – Keys had a great voice, and the production was contemporary and compelling. She was just 21. Three years and five million sales later comes The Diary of Alicia Keys (J) and once again it stands out from the pack. She warms up with the romantic piano exercise 'Harlem's Nocturne' then nails you straight away with the solid groove of 'Karma'. The beat is metronomic but hip, the mood is ominous. She demands respect. 'Heartburn' maintains the self-confidence, with hints of 'Shaft' in the wah-wah guitar and shivering hi-hats courtesy of Timbaland. She knows her history, and pays tribute to Gladys Knight in 'If I Were Your Woman', also nodding to Aretha and Dionne. There is gospel in the backing vocals, drama in her song structures, and she can leave the hip stuff to one side and slip into her own classic ballads with ease ('You Don't Know My Name', 'If I Ain't Got You'). 'When You Really Love Someone' shows how even at the top of her range, she never over-souls like Mariah or the aspirants on American Idol. Two retro moments – the blaxploitation of 'Dragon Days' and late-night TV drama of 'Nobody Not Really' – show how her precocious understanding of the past gives her a vocabulary for the future.
Meshell Ndegeocello's last album Cookie lost me with its free-flowing jazz-fusion and confused attitude. I'm happier to get lost in Comfort Woman (Maverick), it's experimental but not antagonistic. She drifts from the spacey reggae of 'Love Song #1' to the atmospheric 'Come Smoke My Herb'; the lyrics are mush-brained not bad-ass. A siren launches 'Andromeda & the Milky Way' before it settles into heavy dub. The whole album – Ndegeocello plays almost every instrument – has a film/chance music flavour to it. She's feeling her way and happy to have us along as she hints at Hendrix or Sly and Robbie. For those wanting a longer journey, internet connections will take you there.
It's six years since Rickie Lee Jones produced an album of her own songs, a long haul for such a wordsmith. She attended her own songwriting school, studying masters such as McCartney and Mayfield. The Evening of My Best Day (V2) is a sophisticated return to form, its maturity at odds with her trademark breathy, ingénue voice. 'Second Chance' revisits the surprised bounce of 'Chuck E'; on 'Bitchenostrophy' she briefly does the bossa nova before settling into a loungey jazz-blues feel. There is plenty of space to hear the subtle playing of LA studio cats, with co-producer David Kalish's tasty guitars standing out along with Jones' own multi-instrumental work. 'Little Mysteries' and the anti-Ashcroft 'Tell Somebody' capture the greasy feel of 60s East Bay funk, while 'Lap Dog' sings a sparse, bag-lady blues. Smart and sensuous, Best Day is vintage Rickie Lee.
Sarah McLachlan's most significant work may be the founding of the Lilith Fair festivals. After an absence for motherhood, Afterglow (Arista) sees her back, a folkie in disguise, earnest but under-achieving. Contemporary window-dressing from her longtime producer Pierre Marchand doesn't camouflage the fact these conventional folk sermons have little to say. There are some lovely chords, looped sound effects and Enya-like BVs, but despite the production goal of diversity there is a uniformity here that can't be hidden. McLachlan may always be doomed to play second-stage at her own festivals.
Over the Rhine show no hesitance about being ambitious with Ohio, their big tribute to their home state. "Concept album" suggests rock opera, but a better indication is the down-home name of their record label: Back Porch. Over the Rhine is a duo, with Karin Bergquist's anguished voice being supported by lo-fi instrumental whiz Linford Detweiler. Over 21 original songs they are not shy to flick through their vinyl collection, hinting at George Harrison with the slide hook of 'Show Me', a Lucinda-literariness of 'Jesus in New Orleans' and a Harvest warble on 'Suitcase'. Piano-based ballads rule, as does a melancholic mood. A double-CD is obviously unnecessary with such a restricted palette but one could become quite possessed by this album. It will sound familiar but continue to surprise with something new: a hint of the Clean here, Bill Withers or Lou Reed there, oh and here's Lucinda again …
Earlier this year Otis Taylor attempted that rarity – a concept blues album – with Truth Is Not Fiction and the results were intriguing but erratic. Corey Harris has pulled it off superbly with Mississippi to Mali (Rounder), which links the blues with its ancestral music in Africa. It flows effortlessly between the two continents, from Mississippi's country blues and charming fife-and-drum bands to Ali Farka Toure across the Atlantic. Some of it was recorded outdoors, and it blends traditional songs such as Skip James 'Cypress Blues', 'Sittin' on Top of the World' and Blind Willie Johnson's chilling 'Dark Was the Night, Cold Was the Ground' with African pieces and Harris's originals. He takes risks, uses his head as well as his heart – and has created the most rewarding blues album in years.
Eric Bibb recorded Natural Light in England, but a cameo solo from Howlin' Wolf guitarist Hubert Sumlin shows his blues may be elegant and refined, but there is still some Delta dirt on the souls of his feet. These blues are very polite, Bibb could be the new Robert Cray but he has more strings to his bow. All the other reference points I think of are white: Sid Selvidge, Leon Redbone, the Windy City Strugglers. It is odd to find a black man sounding like a white man trying to be black, but maybe he'll get a part in the sequel of O Brother Where Art Thou. Randy Newman's beautifully spare 'Every Time It Rains' provides the most moving moment on a fine album. (Little Big Music)
George Benson has been lost to muzak for so long he acts as a salutary lesson in the "got what you wanted, lost what you had" parable. Once the leading disciple of Wes Montgomery, the jazz guitarist makes an surprisingly hip return with Irreplaceable (Verve). Think Stevie Wonder in a jazzy groove, or Luther Vandross taking some chances. Although it runs out of steam halfway – producer James Paul Thompson provides most of the workmanlike songs and, oddly, his acoustic guitar dominates – occasionally George breaks out of the contemporary beds with some trademark light jazz licks as a reminder of his potential pre-'Breezin'.
<![if !supportEmptyParas]> <![endif]>
[ends]