RHYTHM & ROOTS
BY CHRIS BOURKE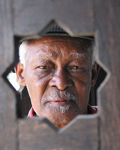 Twelve years ago Ibrahim Ferrer retired: music had only brought him suffering and disappointment. He became a shoeshine boy, aged 64. In 1996 he was reluctantly dragged to one of the Buena Vista Social Club sessions, and ended up dominating that phenomenally successful album. He has since filled the world's great concert halls and had a huge hit with his first solo album. Its follow-up, Buenos Hermanos (World Circuit), pushes the envelope more. Ry Cooder is the producer, so Ferrer is in safe hands, but his music is subtly modernised. Cooder associates such as drummer Jim Keltner, accordionist Flaco Jiminez, the Blind Boys of Alabama and trumpeter Jon Hassell make an appearance, alongside dozens of Ferrer's compadres from the Santiago 'hood. The local musicians are just as keen to escape the trap of being a short-lived ethnic curiosity/nostalgia fad (as Graham Reid quipped when Buena Vista arrived, "Cuban music: this year's Cajun?"), with multi-instrumentalist Manuel Galbán making a huge contribution to this rich, spirited album. This is very sexy music that moves the soul so much more than the players' over-groomed, under-clothed Latin-pop grand-daughters.
To accuse Septeto Nacional Ignacio PiĖeiro of jumping on the bandwagon would be ignorant (as Michael Jackson would say). Poetas del Son (Le Chant du Monde) celebrates the band's 75th birthday. Founder Iganacio PiĖeiro left this mortal coil long ago, after transforming son music by making trumpet its shrill lead instrument. Get past the trumpet and one can wallow in the rhythmic variety; this is like the classiest of street bands. Son, rumba, bolero, guaracha … you hum it, they'll play it.
Jimmy Scott wasn't quite reduced to shining shoes in his near 30-year absence from recording, but his career was long overdue for revival when Atlantic took him in hand in the early 1990s. Revival? Many thought he was dead. Blame the musical mafia: his disappearance was due to a contractual dispute that stymied Scott long after a dubious deal had expired. Falling in Love is Wonderful (Rhino) was recorded in 1962 as the first album for Ray Charles' new label Tangerine, but pulled from record stores after only one month. A hormonal condition prevented "Little" Jimmy Scott from developing, leaving him pint-sized with a haunting, unsettling alto voice. He won fans in both jazz and R&B, Billie Holiday among them, even if they wondered if they listening to a woman or a man. Finally available, Falling in Love is a lush, seductive suite of standards in the tradition of Sinatra's In the Wee Small Hours. While Charles himself tinkles along with the strings, Scott's charming, smooth-as-satin voice floats above, plaintive like Holiday – and weird like a natural castrati.
Paul Ubana Jones' retrospective is well named: Uniquely Ubana (Pagan). Jones has always been his own genre, a Nigerian-born Cockney (based here since 1985) as much influenced by Richie Havens and Jimi Hendrix. With his big-hearted singing and exuberant but sensitive acoustic guitar work, he is capable of filling a room with his sound then stunning then audience into silence as they listen out for a delicate harmonic. His own songs usually woo you with their melodies, though some can lose you; his covers are turned upside down, captivating you with tension until recognition arrives. Last year's version of U2's 'One' was superbly realised, layered with atmosphere (and a Salmonella Dub sample) and building with restraint; it's a sound that should finally launch Jones out of the folk circuit.
Bob Dylan's triumphant return to the stage with the Band in 1974 (as heard on Before the Flood) was rapturously received, even though it was the same music that had been booed in 1966. Within a year, he upped the ante with Blood On the Tracks, his best album since his mid-60s heyday. Audience satisfied, he characteristically took a left turn, putting together a shambolic touring outfit of old friends, its loose approach mirroring Dylan's spontaneity in the studio. Live 1975: The Rolling Thunder Revue (Columbia), the fifth volume of "the Bootleg Series", documents this era, just prior to his first visit to New Zealand, his conversion to Christianity, and the desultory albums of the 1980s which almost – sacrilege! – undermined his status. But here Dylan is triumphant, and the devoted audience is along for the party; the Revue's erratic diversions set the scene for the "never-ending tour" of the past 15 years. The ad-hoc band – which included Joan Baez, Roger McGuinn, T-Bone Burnett and Mick Ronson in its large cast – often becomes bombastic, causing Dylan to bellow rather than sing. Energy and humour carry them through, plus the many solo acoustic songs that will probably be returned to most often on this 2CD set. I still prefer Before the Flood, but this will keep Dylanologists analysing until the imminent arrival of Bootleg volume six, an hilarious acoustic gig from Halloween, 1964.
Without Johnny Cash, the classic Dylan albums of the 1960s may never have existed: Columbia was about to drop Dylan until the Man in Black intervened. On Kindred Spirits: A Tribute to the Songs of Johnny Cash (Columbia) Marty Stuart has gathered a stellar cast – mostly labelmates – for a warm celebration. Dylan, Springsteen, Roseanne Cash, Dwight Yoakam are all highlights, but welcome surprises come from Little Richard (giving 'Get Rhythm' a-wop-bop-a-loo-bop) and Keb' Mo' (turning 'Folsom Prison' into a true blues). Dressed in Black: A Tribute to Johnny Cash (Dualtone) is a worthy companion put together by Chuck Mead. The B-team stands tall, especially former son-in-law Rodney Crowell going pop with 'Ballad of a Teenage Queen', Bruce Robison and Kelly Willis cooing 'Pack Up Your Sorrows' and Dale Watson rumbling 'I Walk the Line'. The A-team has the names, while the underdogs have the revelations.
<![if !supportEmptyParas]> <![endif]>
<![if !supportEmptyParas]> <![endif]>
<![if !supportEmptyParas]> <![endif]>
<![if !supportEmptyParas]> <![endif]>
<![if !supportEmptyParas]> <![endif]>
<![if !supportEmptyParas]> <![endif]>
<![if !supportEmptyParas]> <![endif]>
<![if !supportEmptyParas]> <![endif]>
<![if !supportEmptyParas]> <![endif]>