BACKBEAT
RHYTHM & ROOTS
CHRIS BOURKE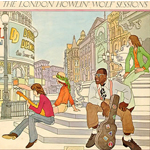 <![if !supportEmptyParas]> <![endif]>
SOMETIMES the best ideas are the most obvious. In the 1960s the careers of the early blues players were revitalised by the enthusiasm of British stars such as Eric Clapton, John Mayall and the Rolling Stones. In 1970 minor Chess Records producer Norman Dayron suggested to Clapton that he record with Chess legend Howlin' Wolf. Clapton jumped at the idea; years before the dire 'Wonderful Tonight' came out around the time his current girlfriend was born, he had been such a blues purist that he quit the Yardbirds because they were becoming "too pop". Dayron flew an ailing Howlin' Wolf over for the first of several sessions by Chess legends with their Limey acolytes. The London Howlin' Wolf Sessions (Chess/MCA) was followed by similar efforts with Muddy Waters, Chuck Berry and Bo Diddley; Wolf's was by far the best, so it is fitting it receives a lavish re-issue in Universal's 'deluxe editions' series.
Blues purists – Clapton among them – have been sniffy about the resulting album, but purists always are at ideas that break moulds. Wolf's London Sessions is a step removed from his Chess swagger, but still has a compelling tension about it. Wolf was always angry, sometimes belligerent, and he was deeply sceptical about the young band that Clapton had cobbled together: Rolling Stones Charlie Watts, Bill Wyman and Ian Stewart on drums, bass and piano, plus long-time Wolf associate, guitarist Hubert Sumlin, and teenage white Chicago harp virtuoso Jeff Carp. Stevie Winwood was later over-dubbed on piano and organ, and Ringo Starr and Klaus Voorman made a cameo appearance on the first session when Watts and Wyman were held up. If Wolf was dubious, the white boys were shaking in their suede desert boots. The classic moment when the sessions click is during the rehearsal for 'Little Red Rooster', after Clapton responds to Wolf's bitching by asking the master to lead them on guitar until they get the feel right. Similarly revealing is the conversation before 'Who's Been Talking' when Wolf demands a different groove – "a bongo beat, that jungle stuff" – and the band responds with an uplifting samba. An extra CD of outtakes is (for once) fascinating, and The London Howlin' Wolf Sessions is a moving example of trans-Atlantic cooperation where no one gets hurt. That it may still lead fans of British blues to the original Chess sessions is just a bonus.
Kenny Brown
has been a honky in the woodpile since childhood, playing alongside Mississippi blues legends Fred McDowell ('You Gotta Move') and RL Burnside. Many of the latter's songs appear on Brown's belated debut
Stingray
(Fat Possum), which displays his gritty contemporary take on Delta electric blues.

This stays authentic to his black mentors while tipping a hat to the Allman Brothers and Steve Earle, shifting from delicate Dobro work on the front-porch to edgy Stevie Ray Vaughan voodoo blues. Brown's voice deftly combines a Highway 61 snarl with Jerry Lee Lewis's bluster and the lilt of Memphis blues-folkie Sid Selvidge.
Maria McKee left roots-rock pioneers Lone Justice behind 17 years ago, and since then she has struggled to find her voice – or audience – in a solo career. Her self-titled debut was dominated by producer Mitchell Froom, and while You Gotta Sin to Get Saved was an exceptional white-soul album, it wasn't that original (Delaney Bramlett had been there before, also Van Morrison and Rita Coolidge). High Life (Viewfinder) comes eight years after Life is Sweet, and while it isn't as relentlessly gimmicky (read: chaotic) as that effort, it once again genuflects to the oddest of influences: Bowie's Ziggy Stardust. This is eccentric and earnest and not unlike something Tori Amos would produce. To scrutinise the lyrics would be cruel, but if you've ever wondered what a faux Appalachian would deliver after time at a London art school, go no further.
Canadian Kathleen Edwards stays closer to home for her debut Failer (Zoe): her songs share the literate, dreary melancholy of Lucinda Williams. These tales of stoned trailer trash have the laconic delivery of James McMurtry, with a consistency of tempo that is the album's undoing. The opener 'Six O'Clock News' is spirited despite its content – a pregnant woman pleads with her fugitive partner to give himself up – and 'National Steel' is a delicate late arrival. But already by the second track – the accurately named 'One More Song the Radio Won't Like' – the languor has become torpor.
Joan Armatrading returns after an eight-year silence – during which she studied for a BA – to show how bed-sit folk-pop should be made. Lovers Speak (Telstar) is a confident yet subtle album that recalls her great work from the mid-70s: strong, acoustic-based songs recorded with spirit, warmth and clarity. The title track has an almost nursery-like simplicity that makes it irresistible, and 'Physical Pain' has the energy and honesty of her classic 'Down to Zero'. She smoothly shifts from the upbeat to the seductive, and often her voice just soars.
A brother-and-sister act with a post-modern awareness of pop culture: not the White Stripes but Boomkat, a genuine sibling duo with an energetic, eclectic flair. On Boomkatalog.One (DreamWorks) DJ Kellin Manning struts his encyclopaedic cut-up style while his babelicious sister Taryn (barefoot and pregnant in Britney's flick Crossroads) emotes, coos and woos with a wacky sass not too far from Macy Gray. She's got the software; he's got the hard. There's plenty of humour in this and great grooves ('Know Me'), while Kellin gets busy-busy with quotes from 'I Am the Walrus' on through the trip-hop universe. This is a busy, exuberant album that holds your interest and moves the soul – but mostly makes you laugh.
Texan singer Kimmie Rhodes is a neighbour of Willie Nelson; during long twilights they got together to record Picture in a Frame (Sunbird), which showcases her songs and his voice in very simple settings. Rhodes' voice is earthy, unmannered – less ethereal than Emmylou's but sharing some of Nanci Griffith's naivety. 'Love Me Like a Song' is like a teenage duet, sweet and old-fashioned; the nostalgic 'I Just Drove By' is just made for Willie, who responds with an effortless reading. This is a much better context for Nelson than his recent celebrity-fest Stars and Guitars (Lost Highway), a collection of cameo appearances from Nelson's live shows with the usual suspects: Emmylou, Vince Gill, Keith Richards, Ryan Adams, Matchbox 20, Aaron Neville, the execrable Toby Keith and the inevitable Sheryl Crow. A tip: Rodney Crowell's great 'Till I Gain Control Again' is also featured on the Rhodes album.
<![if !supportEmptyParas]> <![endif]>
(*)
<![if !supportEmptyParas]> <![endif]>