BACKBEAT
RHYTHM & ROOTS
By Chris Bourke
<![if !supportEmptyParas]> <![endif]>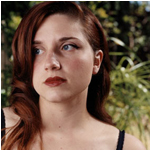 With a voice as fluid and unpredictable as water flowing over river stones, Jolie Holland captivated critics with last year's home-recorded, self-released debut Catalpa. Reviews mentioned the sainted Basement Tapes, said she made Gillian Welch look slick and modern, and that Holland sounded like Billie Holiday if she'd grown up in the Appalachian mountains. Much of this is accurate, though by the evidence of Escondida – Holland's first album recorded in a studio, for a label (Anti) – I'd suggest that's a little unfair to Welch. Holland is just a lot sunnier, that's all. With minimal backing as a distraction, her unique voice takes most of the spotlight. She is loose with phrasing, idiosyncratic with intonation and has an organic, spontaneous way with a melody. Put that together with a wink and a nudge, and Escondida is absorbing from the sassy opening 'Sascha' to its mournful farewell 'Faded Coat of Blue' (the latter is a trad ballad, one of only two songs not written by Holland). 'Old-Fashioned Morphine' manages to be a humorous blues, and with its gospel-piano foundation 'Amen' sounds like Elvis's sister doodling after hours. This is mountain music that would warm the hearts of T-Bone Burnett and Harry Smith. Holland, 28, grew up in Houston. She wandered Southern musical meccas (New Orleans, Austin, northern Louisiana) for years, touched down in Vancouver to form – then quit – the Be Good Tanyas, then finally settled in San Francisco. She's currently on a "retro-gospel kick", hunting through old field recordings for inspiration – and is just eccentric enough to avoid being groomed by a record label eyeing Snorah's sales figures.
To interview Will Oldham is to be warned "Whatever you do, don't call him Will Oldham." Robert Zimmerman created several personae before settling on Bob Dylan, so why shouldn't Mr Oldham, the artist formerly known as Palace Brothers, Palace Music and a phonebook of other pseudonyms. Since 1998 he's settled on Bonnie "Prince" Billy, and he now pays tribute to his earlier lives on … Sings Greatest Palace Music (Drag City). Here, Oldham re-records songs from his cult 1990s albums (Palace Brothers – aka Days in the Wake – and I See a Darkness); in 2000 his duet with Johnny Cash on 'I See a Darkness' for Cash's Solitary Man gave Oldham wider recognition. His alter ego as some kind of twisted preacher from Flannery O'Connor's Wise Blood will keep him from the Opry, but for this self-tribute Oldham enlisted stellar help from Nashville session pros. The songs are fleshed out – legendary countrypolitan pianist Hargus "Pig" Robbins reminds us of the distinctive licks he gave Patsy Cline and George Jones – but this is still too dark to suit Music Row ('You Will Miss Me When I Burn'). Even Gram Parsons may find it too melancholic, despite Mike Johnson's gorgeous pedal steel ('Agnes, Queen of Sorrow'), Marty Slayton's backing vocals lifting the clouds ('Pushkin') and goofy moments like 'I Am a Cinematographer'.
Alison Moorer seems to be throwing down the gauntlet on The Duel (Sugar Hill). Gone is the sultry Dusty-esque Southern soul of The Hardest Part and Miss Fortune; instead we have Southern rock, distaff division, as if Marshall Chapman is fighting it out with Sheryl Crow. The opener 'I Ain't Giving Up On You' sets the pace – grinding rock guitars beneath a brooding tenor voice that makes Helen Clark seem like a soprano – and it doesn't let up for 'Melancholy Polly', 'Believe You Me' and the steamed-up 'All Aboard'. As though flipping the record, it abruptly changes gear halfway through for the title song – just vocal and harmonica – and some gentler ballads. Moorer has one of the great country-soul voices, but now seems determined to carve out a new identity: maybe it's her sister Shelby Lynne nipping at her heels.
Roots-Rock Rugrat Dept (#1 & #2): Jim Dickinson's boys Cody and Luther grew up with bent, soulful Southern rock ringing in their ears: after helping the Stones record 'Wild Horses', dad produced Big Star and the Replacements. So it's appropriate their band the North Mississippi Allstars reflects the Allman Brothers more than the fife-and-drum bands that are native to their band's locale. On Polaris (Cooking Vinyl) they have expanded to a quartet with the addition of another well-bred blues punk, Duwayne Burnside, guitarist son of Fat Possom star RL Burnside. This is Southern roots-rock as jam band: 'Eyes' quotes 'Whole Lotta Love' but comes off as the Allmans covering Cream, while 'Never in All My Days' finds a stompin' swamp feel. These Dickinsons know their grooves, be it early Elvis Costello in 'Kids These Daze', or Big Star's twisted pop-rock ('Polaris'), and while this album is slicker than its two predecessors, that's just because the Allstars well oiled rather than cleaned up.
Roots-Rock Rugrat Dept (#3): Amy Helm couldn't have had a better genes than those she received from her father Levon Helm (if his singing didn't make you cry, his drumming would). But like Levon in the Band, hers is just one voice in a group tumbling with talent. Ollabelle evolved casually in a bar in Greenwich Village rather than setting out to be Delaney and Bonnie revivalists. White gospel is their thing, and once past the happy-clappy tambourines on their self-titled debut the rich array of voices testifies that this is a combo with history and gusto. T-Bone Burnett produces, so traditional Bible belters mix seamlessly with originals ('Get Back Temptation' could be 200 years old) and covers that are part of the canon ('Jesus On the Mainline') or should be (the Stones' 'I Am Waiting' from Aftermath). 'John the Revelator' – who hasn't covered that recently? – suggests Tom Waits as the Night Tripper. (DMZ/Columbia)
Catie Curtis may have found pop success when 'Soulfully' graced Dawson's Creek, but there's no disguising her roots are in the Boston folk scene. On Dreaming in Romance Languages (Vanguard) Trina Shoemaker produces again, and adds some evocative textures, but there's no getting around Curtis's "Everywoman" voice. It could be Anywoman, and it'll annoy me until I work out who (Shawn Colvin? Sarah McLachlan?). 'Hold On' is the standout – its exquisite melody could be Bic Runga's – but the charming 'Doctor' perhaps reveals too much: "I have a problem with my imagination."
<![if !supportEmptyParas]> <![endif]>
-ends-
<![if !supportEmptyParas]> <![endif]>