BACKBEAT
RHYTHM & ROOTS
CHRIS BOURKE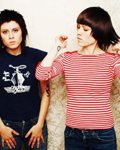 <![if !supportEmptyParas]> <![endif]>
Born in the Bronx 35 years ago Stephanie McKay has shown her soul sisters a clean pair of heels with her startling debut McKay (Go Beat). She went to Bristol to be produced by Portishead's Geoff Barrow and has come up with the sequel to Miseducation that Lauryn Hill has failed to deliver. McKay trained as a dancer, only becoming a singer by accident, and it shows: her grooves are effortless and her vocals have none of the over-souling indulged in by such ready-made divas as Anastacia or the ghastly Mariah Carey. She prefers a subtle seductive style in which the melodies only make an impact after you realise you're hooked. Barrow has created a fusion of old soul with gritty sounds as fresh as tomorrow's street sound; out of a bed of scratchy 78s come heavy hip-hop beats, rhythmic scratches and hypnotic loops. 'Tell Him' is sassy, swinging soul noir while the sultry 'Sadder Day' returns Michael Jackson's 'Beat It' to the 'hood. 'Take Me Over' goes further back, sampling the early reggae classic 'Double Barrel' for some sunny funk. McKay describes her music as being "for people who've grown up on hip-hop but have outgrown some of the content that's in it today. People who like R&B and soul but don't necessarily like it so smoothed out – who still need the heaviness of hip-hop." Recent years have seen an avalanche of aspirant new-soul queens, among them Hill, Angie Stone and Alicia Keys. This impressive debut by McKay has dramatically lifted the stakes.
Released from Capitol Records and the ambitious – but sometimes overbearing – production of Mitchell Froom, Richard Thompson returns a leaner, wiser man with The Old Kit Bag (Cooking Vinyl). Producing is John Chelew, who helped John Hiatt finally find his voice on the rootsy, soulful Bring the Family. Thompson is similarly refreshed, sounding raw and spontaneous as if he'd dropped into the recording studio on the way home from a rehearsal with his stripped-down band of guitar, bass and drums. So Thompson's unique musical personality comes across, with his medieval skirling guitar lines ('Jealous Words'), his Domesday voice on 'A Love You Can't Survive', and the exuberant folk rhythms of 'One Door Opens' (ignore those mental images of Morris dancers). In the spirited 'She Said It Was Destiny' he has a cutting contest with himself, while a poppy chorus cries, "Why am I over here and she's over there?" By its very austerity, this captures Thompson's inherent Britishness attempted on his last album Mock Tudor. An unnecessary bonus CD features two tracks – one an ancient ballad, the other an affectionate cover of Prince's hit 'Kiss' – and a brief BBC interview.
The Followill brothers are the sons of a preacher man, but papa was a rolling stone. It was while travelling with Father Followill as he evangelised throughout the Deep South that they formed their musical aesthetic: Pentecostal gospel infused with rock'n'roll. Their names (Jared, Matthew, Nathan and Caleb) are from the Bible, their band-name Kings of Leon is from their forebears, but their sound is pure Devil's music: Leon Russell and Delaney and Bonnie leading the early Stones and Kinks in a garage jam after a fire-and-brimstone session at a Baptist church. Their well-named EP Holy Roller Novocaine (RCA) is a quick over-view before their imminent debut album Youth and Young Manhood. It takes in the rollicking 'Molly's Chamber' , the very wordy, very Southern 'Wasted Time', the oddly Kiwi sounding 'California Waiting', and the gentle 'Wicker Chair' (Big Star on the front porch). What the Black Crowes dreamt of, the Followill Brothers have lived.
Canadian twins Tegan and Sara come out of the Lilith Fair scene but rock with attitude. Just 22, they've mastered the chutzpah (and chord changes) of early Elvis Costello and Chrissie Hynde; the result is Liz Phair with much better tunes or Ani di Franco with more focus. Their self-titled debut on Sanctuary has real spirit, the mostly upbeat songs are captivating if a little predictable; they start with an easy strum then kick in at the chorus. As you'd expect, they recall other sibling duos – the Finn Brothers on 'Not Tonight' , the Topps on the light-hearted 'And Darling'. And there's a radio single in 'I Hear Noises' with its chugalug jingle-jangle: Velvets in the verses, singalonga Flying Nun in the choruses.
In the late 1980s, son-of-an-icon Ziggy Marley showed more early promise than either of the Lennon half-brothers Julian or Sean, but he quickly settled with reggae lite. Dragonfly (Private) is well named: Zig flits about, never settling anywhere for long. His sunny acoustic pop recalls Eagle-Eye Cherry, or suggests a cleaned-up Toots. There are melodies aplenty, and celebrity friends along like Flea and David Lindley, but it's very bland. Despite the gauche stab at Middle East politics with 'Shalom Salaam' ("the only answer is to live as one") there are no redemption songs here.
Latin-lite is the first impression of Spanish band Ojos de Brujo, as flamenco strumming and group vocals open Barí (La Fabrica de Colores). But the Gypsy Kings flashbacks – bad Chilean wine, bruised olives, dance club-footedness – quickly give way to something more interesting. Two tracks in, on 'Tiempo de Soleá', they're playing with those rhythms; fluid bass lines and scratchy percussion hint at something more cutting edge. By 'Naitá' they're almost getting experimental while staying very sunny and providing lots of hooks. Wallpaper moments of gypsy film music are rare amongst the day trips into Arabia or India. By the finish, it's like being serenaded by a Spanish Six Volts during a power cut; if you hear this as restaurant music, you're in for a surprise on the plate.
An album of standards is often the last refuge of fading roués (think Rod Stewart), ignored or past their use-by-date (okay, Bryan Ferry did it early in his solo career). It's a little sad to see Boz Scaggs reduced to it after Dig, his snappy but ignored effort of 2001. Should we blame Tony Bennett or Norah Jones? Perhaps Dr John and Linda Ronstadt are responsible, having revived their fortunes in the 1980s with their parents' songbooks. But Beautiful (Gray Cat) is sophisticated but soporific, slow-burning without catching fire, beautiful but boring. 'Bewitched, Bothered and Bewildered' begins by emulating John Coltrane and closes sounding like Andy Williams.
<![if !supportEmptyParas]> <![endif]>