RHYTHM & ROOTS
By Chris Bourke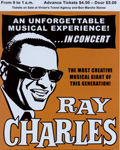 <![if !supportEmptyParas]> <![endif]>
Ray Charles was the alchemist who extracted sex out of salvation, who turned gospel into soul before it had even been named. Adding a rhythmic pump and earthy passion to the call-and-response of church music caused a scandal. Yes, he was blind, but as a musician he was colour blind, seeing no barriers in style or genre. Having shocked his pious peers by transforming the sacred into something salacious, he shocked black and white audiences by recording Modern Sounds in Country & Western Music. It was a massive hit and was a civil rights statement as idiosyncratic as when he played segregated Sun City. He could sing anything, and find the soul within; it wasn't just his effortlessness technical mastery, it was his warmth.
I saw him perform three times, two of them for free, one afternoon in a park in Toronto. (A friend can claim to have slept in his bed, on board his bus after a gig in the Australian outback. Charles had already left by helicopter.) While the 16-piece Ray Charles Orchestra vamped an intro he was lead on stage, grinning widely, head swinging like a sideshow clown, body twitching with rhythm. He started slowly with a recent saccharine ballad, then moved through a few early hits: 'Busted', 'Georgia on My Mind', 'Just for a Thrill'. 'Some Enchanted Evening' turned Broadway into a church: "Who can ex-plain it … God gives you rea-sons …" Someone in the audience called out a song title, and Charles froze at the piano. "Ahh … I don't do requests," he said. "Treat it like the Toronto Symphony. You don't yell out, 'Hey – how 'bout some Beet-hoven!"
The second show that day in 1989 cooked from the band's opening vamp. Apart from the unavoidable hits 'I Can't Stop Loving You' and 'What'd I Say', it was a completely different concert: 'Come Rain and Come Shine' walked a tightrope, 'I Can See Clearly' unleashed some primeval spirit. Most of all, I remember his subtlety – and his power. The dazzling dexterity of his vocal improvisations were casual yet awesome. His wiry frame twisted uncontrollably with the music, his narrow legs and shiny black shoes bouncing every which way. He was like a funky rag-doll grooving at the piano stool.
He came to New Zealand in the late '70s and the mid-90s. The second time through, he limited the magic to 45 minutes and was off. He never went through the motions, but had nothing to prove. One album title from his many great recordings said it all: Soul + Jazz = Genius.
Van Hunt pays tribute to his forefathers on his stunning self-titled debut on Capitol. Curtis Mayfield, Stevie Wonder, Donny Hathaway and the Isley Brothers are his mentors, the pimp lifestyle of his absentee father – in whose record collection he discovered them – is his inspiration. With complete creative control, Hunt has been called the new Prince (just as the real Prince rediscovers the old Prince on Musicology). But 26-year-old Hunt is more like the love-child of Shuggie Otis, eschewing rock to stay firmly within the golden age of soul-funk: the 1970s. 'Hello Goodbye' sets the tone: the delicate, breathy voice of Mayfield over a funk bass and bluesy guitar. 'Highlights' mines the same feel as Dimmer's great 'Getting What You Give', but finds a song as well as a groove out of Sly Stone's bass-line. Hunt knows when to hold back, in his voice or arrangements. On the close-miked 'Down Here in Hell' he plays a, sensitive new age guy; 'What Can I Say' and 'Precious' are ballads worthy of Hathaway or Wonder, with piano and strings nodding to Philly R&B. Unlike the sappy, shapeless wallpaper of so much neo-soul, Hunt knows that structure and dynamics are crucial to say something. There are no flamboyant antics looking desperately for attention, instead he captures – and maintains – our interest with songs of substance, performed with conviction and style. Van Hunt has a consistency reminiscent of Wonder's classic Innervisions; in any year, it would be a standout; right now, it's a marvel.
Nellie McKay is the anti-Norah. Just 19, she heard Come Away with Me and called her debut Get Away from Me (Columbia). She is assured and carefree, a risk-taker whose sassy persona has updated other tart piano-songwriters such as Blossom Dearie and Mose Allison for the Eminem/Sex in the City era. Her mother is an actress, which is no surprise: McKay likes showing off, and has a flibberty-gibbet mind. Her politically astute songs sometimes resemble music for children's television, but this chick-lit pop is infectious and feverish. Though it's only 60 minutes long, Get Away from Me is a double CD, which is probably wise. It may be annoying in large doses, but let's hope no one ever prescribes Ritalin so that McKay loses her hyperactive edginess. 'David' and 'Ding Dong' are sunny entries from a messy diary; the former is about an unrequited infatuation (with her music teacher), the latter is a breezy take on depression ("My cat lied and I quickly poured myself a gin"). Producing is veteran British engineer Geoff Emerick, who has Sgt Pepper, Elvis Costello's Imperial Bedroom and Split Enz's Dizrhythmia on his CV. The sympathetic arrangements have a jazzy clarity and verve; veteran session players such as Jay Berliner (Astral Weeks) are all but invisible, preferring to respond discreetly to the singer and her song rather than becoming "a production". Think Ben Folds with a wider palette, a more sophisticated ear – and greater vocal chops. Nellie McKay wants to be noticed, and doesn't mind playing the eccentric (earlier in her teens, she tried stand-up comedy). But the career of Kate Bush shows how a novelty breakthrough can handicap someone with abundant talents.
Night Train to Nashville (CMF/Lost Highway) is an exquisitely produced compilation that shows the marriage of R&B and country music had been consummated long before Ray Charles made it public. It showcases black acts recording in Nashville between 1945 and 1970, and reveals that the Grand Ole Opry was essential listening in all households (when valve radios weren't tuned to WLAC, which beamed R&B to the nation). These hits by Arthur Alexander, Joe Tex, Bobby Hebb ('Sunny') and Joe Simon – whose 'Chokin' Kind' was recently covered by Joss Stone – show that country-soul wasn't restricted to the studios of Muscle Shoals. This double CD compilation, produced by Nashville's Country Music Hall of Fame, describes the evolution – and integration – of country-soul with flair, rhythm and humour (check out Little Richard's idol Esquerita on 'Rockin' the Joint' and the man himself in a radio ad). The From Where I Stand box set was like school, with Charlie Pride as headmaster. Night Train to Nashville rocks and rolls through the mid South.
<![if !supportEmptyParas]> <![endif]>
- ends -
<![if !supportEmptyParas]> <![endif]>
<![if !supportEmptyParas]> <![endif]>
<![if !supportEmptyParas]> <![endif]>
<![if !supportEmptyParas]> <![endif]>