BACKBEAT
RHYTHM & ROOTS
CHRIS BOURKE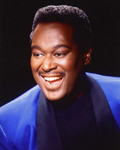 <![if !supportEmptyParas]> <![endif]>
Silken-voiced crooner Luther Vandross suffered a stroke recently, though it wasn't unexpected by those who have followed his extreme weight fluctuations. Binge dieting has always been suspected, so much so that Murray Cammick interpreted each song on 1988's Any Love as a serenade to the contents of Vandross's fridge. But there is not hint of impending health crisis on Dance With My Father (J Records): designed more for the bedroom than the dance floor, it showcases Vandross the vulnerable rather than Luther the lothario. Slow ballads of unrequited love dominate, his voice slippery like satin sheets wanting to be mussed. 'If I Didn't Know Better' is the plea of the gooseberry, always left out; 'Buy Me a Rose' is a cautionary tale, a warning from a woman feeling she's being taken for granted. With Vandross stalwarts such as Nat Adderly and Marcus Miller on board, this is so smooth it almost floats without any forward momentum. Cameo appearances from Foxy Brown, Beyonce Knowles, Busta Rhymes and Queen Latifah make little impact alongside the slow waltz showcase of 'Right in the Middle', in which a Greek chorus of female backing vocalists inspire Vandross to worry himself into deep soul territory. Otherwise this is luxurious bedroom wallpaper, tasteful if rarely distracting.
Lizz White is a 23 year-old from small-town Georgia who already has the big, warm contralto voice of Mavis Staples. Now all she needs is some decent material: her debut Salt (Verve) is tasty but light, more noodles than potatoes. Her voice has more oomph than Cassandra Wilson, whose clever song picking has enabled her to stand out amongst the sheen of the jazz school graduates. White's delicate backing combo allows plenty of space but has little personality. Like Aretha, White grew up a gospel prodigy, and this can be seen as an apprentice "Columbia" phase in which extremely competent cocktail jazz is a stepping stone to finding her true character.
Norah Jones arrived with her own voice fully formed, an easily digestible amalgam of blues and country that enabled her to become a brand-name overnight. This early talent is apparent on New York City (Koch), a 30-minute mini-album of sessions with the Peter Malick Group a year before Jones's mega-breakthrough with Come Away With Me. She effortlessly experiments with Malick's refined contemporary blues, and while she is unwise to play the raunchy mama, her treatment of Dylan's 'Heart of Mine' shows what brought the invitation to record. Malick's cool licks turn 'New York City' into a sensuous finger-clicker, catchy enough to be included here twice among the seven tracks. Only at her piano for one of them, Jones is relaxed and capable, not yet burdened and bemused by fame. For those sceptical about Jones – or burnt-out by the over-exposure – a Robert Christgau essay is recommended: www.villagevoice.com/issues/0311/christgau.php
Sid Selvidge is a Memphis legend whose talent has barely been heard outside the city limits. He is a one-man acoustic treasure chest, blending his own mix of folk, blues and country. His ethereal light tenor is capable of deep soul – it suggests a mature, more roots-aware Ron Sexsmith, if he'd been kept awake as a child by the noise of Beale Street. Selvidge releases nearly one album a decade, and A Little Bit of Rain (www.archer-records.com) is about his fourth. Producing is Jim Dickinson, his Dixie-fried colleague from Mudboy and the Neutrons, who has recaptured the faux-authentic sound he achieved with Ry Cooder on Boomer's Story. Songs by Eddie Hinton, John Hiatt, Fred Neil and Bascom Lunsford show how a deft interpreter such as Selvidge can create his own voice through the work of others.
Robert Cray found his identity early on, strongly persuading with his first releases. He provided a presentable face for a genre under siege, but his reliability quickly turned into predictability: blues for the well-groomed. Recent albums have shown a return to form, perhaps too late. But Time Will Tell (Sanctuary) may be astutely named: the risk factor has been upped a notch. While characteristically tidy, variety is its strength, as Cray's well-oiled band shifts between swampy grooves and pop blues, while his Sam Cooke voice coasts breezily above. 'Your Pal' is loose funk, propelled by casual horns from Sly's Family Stone; 'Distant Shore' looks towards Latin America, almost bringing Cray out in a sweat.
Exile on Blues St is another themed compilation on Telarc; like its predecessor The Blues White Album it's an inspired idea disappointingly rendered. The problem is the pedestrian nature of the Telarc house band: if they had cast the net as wide as the Paint It Blue compilation of black musicians interpreting the Rolling Stones – or hired Jim Dickinson to produce – they might have ripped this joint. There are flashes when you get what you want (Otis Taylor's haunting 'Sweet Black Angel', Jeff Lang's stark acoustic 'Sweet Virginia' and Joe Louis Walker's stately 'Shine a Light') but also moments when a high-school covers band has more chance of getting its rocks off.
Otis Taylor serves up a rarity with Truth Not Fiction (Telarc): a roots concept album. These portraits of the underbelly of rural America – ghost stories from the reservations, civil rights sagas from the front line, slaves, prisoners, segregation, suffering – suggest an experimental Taj Mahal, or Paul Ubana Jones let loose on banjo. The spirit is willing, even if the results are less than compelling.
Former skateboarding pro Tommy Guerrero has eschewed his frenetic punk instincts for the lo-fi experiments of Soul Food (MoWax). The sub-title tells the story: "Chicken Bones and Funky Tones". This is indeed greasy, its slow grooves percolating Guerrero's jams with loops and samples: distracting sounds for some rootsy café. Guerrero's occasional light vocal suggests he is happier in the background.
<![if !supportEmptyParas]> <![endif]>
<![if !supportEmptyParas]> <![endif]>
<![if !supportEmptyParas]> <![endif]>
<![if !supportEmptyParas]> <![endif]>
<![if !supportEmptyParas]> <![endif]>
<![if !supportEmptyParas]> <![endif]>
<![if !supportEmptyParas]> <![endif]>