BACKBEAT
RHYTHM & ROOTS
by CHRIS BOURKE
<![if !supportEmptyParas]> <![endif]>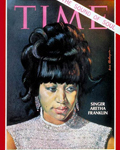 Last night a contestant on TV's Australian Idol obliterated the competition with a ballsy, assured version of Otis Redding's 'Respect'. "She stole my song," was Otis's response when Aretha Franklin covered it in 1967 and, as we all know, possession is nine-tenths of the law. It's been Aretha's ever since, and a rallying cry for several generation of women. With so many neo-soul pretenders to the throne of Queen of Soul that have been dominating R&B in recent years, what is the response of the original? On 1998's A Rose is Still a Rose she recruited Lauryn Hill to freshen up her grits, while still kissing the hem of Mahalia Jackson. It was her best album since the under-rated mid-70s albums that closed her career at Atlantic, though it says a lot that I haven't played it since reviewing it.
So Damn Happy (Arista) makes no concessions to neo-soul, apart from LA Reid overseeing a gang of producers that include Aretha herself, Jam and Lewis and even Burt Bacharach. This is upmarket Aretha, a big-budget contemporary version of the "black Streisand" years before Atlantic came to her rescue and gave her 'Respect'. It's a slick but mellow album, happy to float along on cushions of arrangement, backing vocals and banks of warm synthesisers. The self-produced title song is a big piano ballad, and she still had that inimitable gospel groove at the keyboard. Underneath everything she does, no matter how Broadway she gets, the church is always there (and 'Good News' testifies to this). Bacharach co-wrote his song with Jerry Leiber, and a Stevie Wonder-like harmonica, makes it sound like a mainstream fundraiser. Despite the huge credit list, So Damn Happy has a consistency – black-strap molasses – and Aretha can still soar. She just needs more of a flight plan.
Erykah Badu is way off the radar with World Wide Underground (Motown), an album so self-indulgent it eclipses Lauryn Hill's recent live effort. (What are these gals on? Badu must feel she's the new Queen; she doesn't even have her name on her album.) There are long, long passages of loops, bleeps, heartbeats, squawks and sound effects and the songs seem to have got lost in the mix. Halfway through, a song finally emerges: 'The Grind', with the BVs in the forefront. 'Think Twice' is gossamer light, so subtle it would be lost on any other company. Finally with track nine, 'Love of My Life Worldwide', she hits a good funk groove. Shame that the bass line belongs to Parliament.
A couple of years back the Webb Brothers' exuberant Maroon was a great Britpop album, albeit one made by two princes of American pop. Now a third offspring of Jimmy Webb has joined the party, which rocks as if England still swings. The Webb Brothers (679/Warners) is the morning after, still celebratory but with wistful doubts. It flows like they've mainlined Abbey Road and has big, conceptual aspirations that are pure Pink Floyd. Beefy drums underwrite dreamy, layered guitars and vocals. 'A Funny Ol' Kind of Music' has the uplifting spirit of 'Summer People', the standout single on Maroon, before the album calms down into something more introspective, where they're challenging us to try whistling this. The slinky Latin feel of 'Jonesy vs the Apocalypse' breaks the mould, before it closes what is almost a wimp-rock suite: four gentle, atmospheric, dreamy songs Nick Drake would be proud to be associated with. The closer 'Bitten By Snakes' is quite barmy, with a chamber orchestra added almost as an afterthought. These Californian Anglophiles have spent plenty of time studying The White Album in altered states.
Elvis Costello has finally done it. The one-time master of the 2'30" bitter pop song is now an Artiste. No doubt inspired by his new love, cocktail-jazz diva Diana Krall, he has taken up the piano and written an art-song cycle. North is appropriately on Deutsche Grammophon, though Schubert's Erlking rocked a little harder. Costello comes off a little like Ivor Novello, the real-life character in Gosford Park: arch and po-faced. These songs are the aftershocks from Painted With Memory, Costello's collaboration with Burt Bacharach (especially the ballad 'When Green Eyes Turn Blue'). You can hear him exploring the keyboard, revelling in the exquisite chords it throws up. I hope his next lessons analyse Randy Newman and he rediscovers melodic hooks, swing and humour. 'I'm in the Mood Again' bodes well, with strong lyrics ("Hail to the taxis, they go where I go / Farewell the newspapers that know more than I know"). Taken in small steps – the warble is getting worse – North is a positive direction. (An added DVD features Elvis explaining three songs at the piano; downloadable from the net using a provided PIN number is 'North' itself, a little out of character from the album.)
Van Morrison has no problem with the music, it is his lyrics that are getting senile. What's Wrong With This Picture? – his first for Blue Note – is more light jazz-R&B, stronger musically than last year's Down the Road but his words are cringe-making. The curses of fame, living in a goldfish bowl, too many myths, gossipy media … you want to slap him and quote Sinatra to whinging George Michael: "Swing with it, baby!" But one song is called 'Whinin' Boy Moan' and it's one of the best here: upbeat jump swing with a wonderful horn section. (Morrison is still the best white arranger of R&B horns, he has a different take on Memphis or New Orleans, thanks to his apprenticeship in showbands.) The title track has the lush strings of 'Coney Island' and it's like listening to the best singer in the bar, one who can afford an orchestra. There are creditable nods to Fats Domino (the melancholic 'Somerset'), an excellent tribute to Bobby Bland (a dignified re-visit to 'St James Infirmary'), and 'Little Village' could be from his Woodstock days on Warners. So: it's not what he says, it's the way that he says it.
With the death of June Carter Cash a link with the earliest days of recorded country music has been severed. But Johnny's wife was recording right up to the end and her last sessions have just been released as Wildflower (Dualtone) along with her 1999 Grammy winner, Press On (Risk; both through Shock). Although they occasionally sound like a session at the Sunset Home – and what more appropriate way is their to go? – it is also like being invited along to a last family gathering. There is plenty of laughter, as well as a few tears. Both albums are dominated by a sense of history, a skill for yarn spinning and hokey humour – and the masterly finger-picking acoustic playing of Norman Blake. Press On ranges from religious country to shaggy-dog songs such as 'Gatsby's Restaurant' (she wants to grab a horse and ride through New York), but the standout is 'The L&R Don't Stop Here Anymore', a hoedown shuffle with all the family on percussion. "Don't be a dirty miner like me," says Dad. "I used to think my Daddy was a black man." Wildflower is more conceptual, with archival soundbites, hints at oral history, moving songs and in-jokes. 'Will You Miss Me When I'm Gone?' unnecessarily reminds us this is a wake being held in advance. Actually, it's a moving testimony.
<![if !supportEmptyParas]> <![endif]>
<![if !supportEmptyParas]> <![endif]>
<![if !supportEmptyParas]> <![endif]>